A PERSPECTIVE ON YOUTH 
The Right Perspective Series l Story 7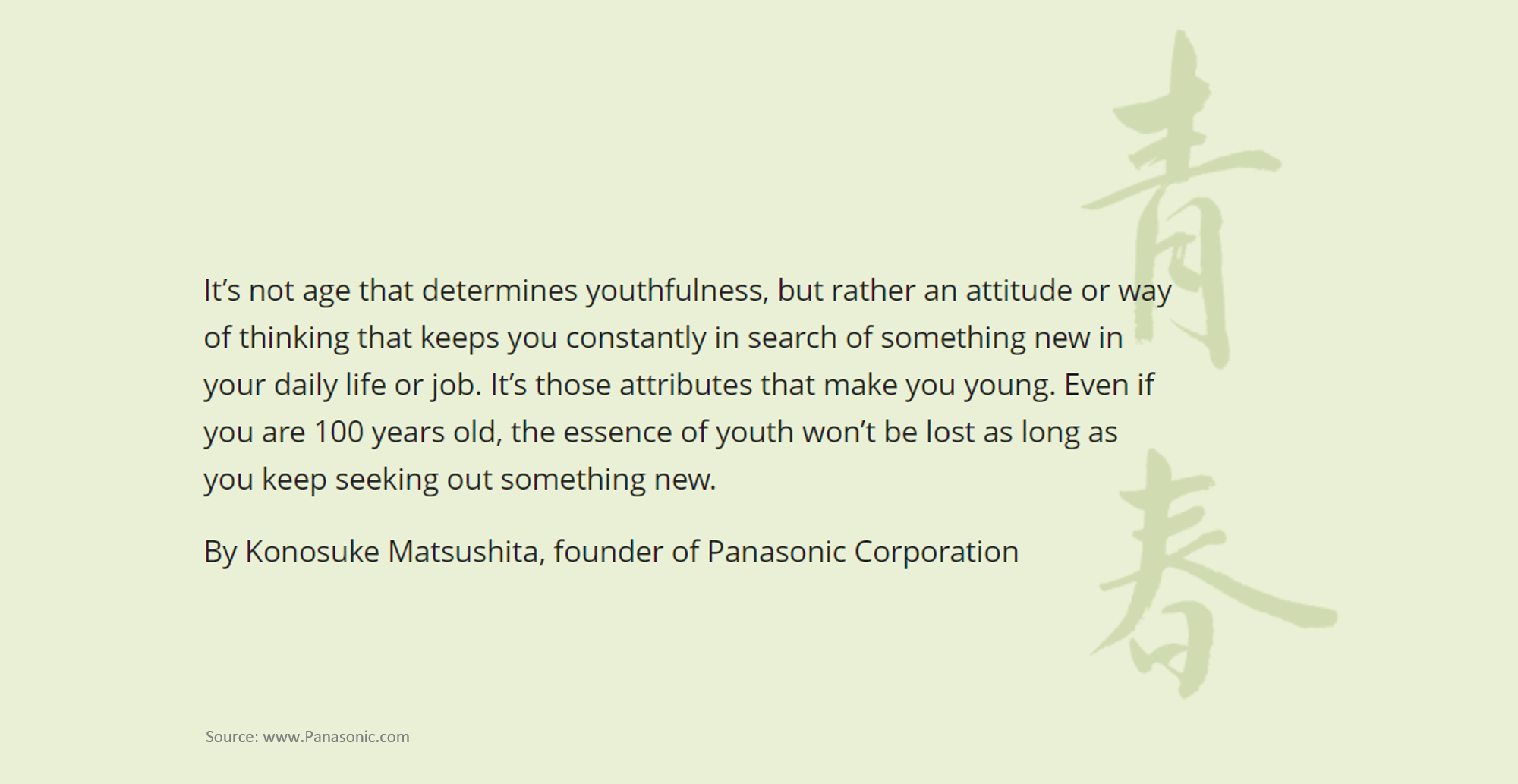 Mr Konosuke Matsushita (1894-1989) is a highly respected business leader who founded Panasonic, the largest Japanese consumer electronics company.
Most Important Lesson from Mr Matsushita's Life
In his book "Matsushita Leadership" (The Free Press, 1997), Mr John P. Kotter described the life, struggles, accomplishments, and legacy of Mr Matsushita.
Mr Kotter concludes that if there is any single lesson from Mr Matsushita's life that would be particularly applicable and important in the future it would be this: do not assume that we cannot continue to develop, and develop greatly, as we age. 
Yes, it is true that most people become more closed to new ideas as they become older.  Success often creates arrogance and complacency. Failure often undermines one's willingness to take risks. But there is nothing biologically determinant about these tendencies.
Mr Matsushita's Perspective on Youth
As Mr Matsushita once said:
"It's not age that determines youthfulness,
but rather an attitude or way of thinking that keeps you constantly in search of something new in your daily life or job.
It's those attributes that make you young.
Even if you are 100 years old, the essence of youth won't be lost as long as you keep seeking out something new."
Mr Matsushita's Favorite Poem
Mr Matsushita's favourite poem, "Youth" by Mr Samuel Ullman (1840-1924), says it all:
"Youth is not a time of life;
it is a state of mind;
it is not a matter of rosy cheeks, red lips and supple knees;
it is a matter of the will, a quality of the imagination, a vigour of the emotions;
it is the freshness of the deep springs of life.
Youth means a temperamental predominance of courage over timidity,
of the appetite for adventure over the love of ease.
This often exists in a man of sixty more than a boy of twenty.
Nobody grows old merely by a number of years.
We grow old by deserting our ideals.
Years may wrinkle the skin, but to give up enthusiasm wrinkles the soul.
Worry, fear, self-distrust bows the heart and turns the spirit back to dust.
Whether sixty or sixteen, there is in every human being's heart
the lure of wonder,
the unfailing child-like appetite of what's next, and
the joy of the game of living.
In the center of your heart and my heart there is a wireless station;
so long as it receives messages of beauty, hope, cheer, courage and power
from men and from the infinite,
so long are you young.
When the aerials are down, and your spirit is covered with snows of cynicism and the ice of pessimism,
then you are grown old, even at twenty,
but as long as your aerials are up, to catch the waves of optimism,
there is hope you may die young at eighty."
Perspective #7
Youth is not a time of life – it is a state of mind.
________________________________________________________________________________________________________________________________________
Written By:  Lim Siong Guan and Joanne H Lim (Co-Authors of "Winning with Honour" and "The Leader, The Teacher & You")
To read the other stories in "The Right Perspective Series", please visit: www.TheRightPerspective.com.sg/blog/
For more information, please visit: www.TheRightPerspective.com.sg